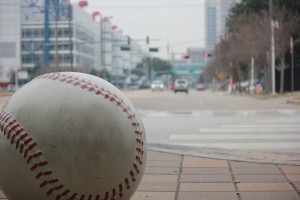 Jeff Wilpon, the Chief Operating Officer of the New York Mets and son of Mets owner Fred Wilpon, runs his front office department about like his father runs the baseball team: Leigh Castergine, former Vice President of Ticket Sales, recently filed a lawsuit in the Eastern District of New York alleging that Fred Wilpon and the ball club discriminated against her for being pregnant and unmarried.
Castergine is a graduate of the University of Pennsylvania. She has worked for the Philadelphia 76ers, Orlando Magic, and Boston Bruins and was hired by the Mets in 2010. Last December, the Mets promoted Castergine to Vice President of Ticket Sales, making her the first female to hold such a position in the ball club's 52 years of existence. The team regularly awarded her five- and six-figure bonuses for her work.
Sounds pretty good. So how did things go wrong?
According to Castergine's charge, problems at work started when announced that she was pregnant. She alleges that Wilpon reacted to the news by showing his disdain for her situation in several humiliating ways, including:
Pretending to see if she had an engagement ring on her finger;
Announcing to the Met's all-male senior executives that he was "as morally opposed to putting an e-cigarette sign in [his] ballpark as [he was] to Leigh having this baby without being married."
Telling Castergine to tell her boyfriend that when she gets a ring she will make more money and get a bigger bonus;
Warning other co-workers to not take any interest in the unborn child;
Telling Castergine she was different and "less aggressive" after she gave birth to her child; and
Telling one of Castergine's colleagues that people would respect her more if she were married.
Finally, Castergine alleges that she was fired in retaliation for reporting Wilpon's behavior to the Met's Human Resources department, which she says did nothing to investigate her complaints. The lawsuit notes that Castergine's termination came shortly after she spoke to human resources and that Wilpon had told her she could only stay through the season as long as she kept her mouth shut about her discrimination claims.
The Mets maintain that Castergine was fired because she failed to meet sales expectations.
So what happens now?
Typically, a plaintiff alleging discrimination must show four things: (1) that she is a member of a protected class; (2) that she was qualified for her position; (3) that the employer took an adverse action against her; and (4) that something about the employer's actions raises an inference of discrimination. This test is flexible and recognizes that there are many different things employers can do to suggest discriminatory intent, including:
Regularly making rude or derogatory comments to members of a plaintiff's protected class;
Having a history of showing a bias toward persons in a protected class;
Having noticeably few employees of a protected class in a workplace; and
Retaining less qualified, non-protected employees in the same job.
The District Court where Castergine sued is therefore likely to look at things like her qualifications and job performance, as well as Wilpon's conduct and the adequacy of Mets' investigation.  Next, the burden will shift to the Mets to show that it had a legitimate, non-discriminatory reason for firing Castergine.  She will then have the opportunity to show evidence that the Met's purported reason for firing her was only pretext for unlawful discrimination.
The Erlich Law Office will continue to monitor this case as it develops.  Stay tuned for more information.